I was lucky to have beautiful photographs for this brochure design project. It made it fairly simple to design since Kim Martin provided everything I needed to make it a success; namely fantastic quality photographs and focused, informative content. Most of the design consisted of layout choices and photo treatment. The use of thin white borders inside of each photo, and thin blue borders outside of photos that overlapped, anchored them to the page and added some interest. Inside and outside samples below.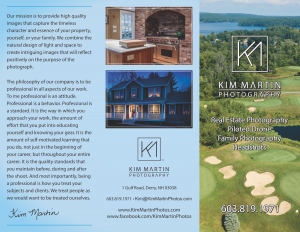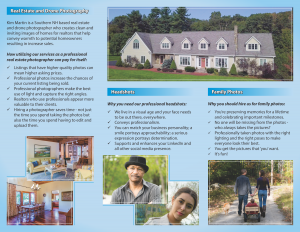 More information on Kim Martin Photography below.
---
Our mission is to provide high quality images that capture the timeless character and essence of your property, yourself, or your family. We combine the natural design of light and space to create intriguing images that will reflect positively on the purpose of the photograph.
The philosophy of our company is to be professional in all aspects of our work. To me professional is an attitude. Professional is a behavior. Professional is a standard. It is the way in which you approach your work, the amount of effort that you put into educating yourself and knowing your gear. It is the amount of self-motivated learning that you do, not just in the beginning of your career, but throughout your entire career. It is the quality standards that you maintain before, during and after the shoot. And most importantly, being a professional is how you treat your subjects and clients. We treat people as we would want to be treated ourselves.
You can check out Kim Martin Photography at KimMartinPhotos.com or FaceBook.