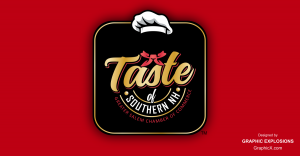 I was lucky enough to be tasked by the Greater Salem Chamber of Commerce, the best Chamber ever, to create a logo for one of their major annual events. Since this event has grown to be bigger and better than ever with the inclusion of restaurants from a wider area, it was decided that the name of the event needed to be changed to show its magnitude. Fortunately for me, that necessitated the creation of a new logo.
The requirements of the logo was that it should show its inclusiveness and polished professionalism, like the restaurants and Chamber themselves, and be easily recognizable as the symbol of this amazing event year after year. The rich colors used in the logo reflect the richness and deliciousness of the food and drink that awaits those that attend, and the chef's hat and scarf without a face point to the wide variety of food, drink and chefs themselves that can't be characterized by a single face.
We wanted to avoid the common fork, knife and spoon theme that is so often seen in taste events. Check. And we wanted to project, loud and proud, what is so important about this event to both the Chamber and the event goer… TASTE. Check and check!
You can learn more about the Taste of Southern NH below.
---
Every year the Chamber Salem Chamber of Commerce's restaurant expo event gets better and better! For over 20 years, the Greater Salem Chamber has provided a venue where hundreds of attendees are treated to an evening of Food, Fun, Extraordinary Raffle Prizes, and Networking!
Formerly known as the Taste of Greater Salem, the event has grown into the Taste of Southern NH. Dozens of restaurants from the region showcase their specialties and this year will also include chili and chowder cook-offs! The event is open to the public and a portion of the proceeds benefit the Chamber's Annual Scholarship and Interview Challenge programs.
The 2018 Taste of Southern NH will be held Wednesday, May 16th, 5:30 – 8:00 PM at the Castleton Banquet & Conference Center, 58 Enterprise Drive, Windham, NH. Ticket price is $35. To purchase tickets, go to www.gschamber.com or call 603.893.3177