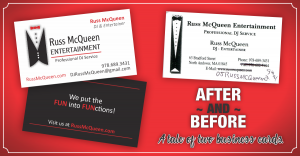 Just a quick post to show y'all a business card redesign that we did for Russ McQueen. Out with the old one color, thermographic printing, and in with the flexibility of 2 sided, full color printing. While our full color cards can be finished in a variety of ways (like gloss, spot gloss, etc.) we decided that a smooth semi-gloss finish would enhance the look and feel of the card while protecting the surface. And one of the nice things about our full color printing is that you can get both sides printed in full color for the same price, and sometimes much less, than standard thermographic printing.
Contact us for more info on how we can make your business card look great and act as a fantastic 24/7/365 marketing tool, and do it for a very reasonable cost. When you think about it, the business card is the single most cost effective marketing tool that you can invest in. In most cases only 5 cents per card. A steal!
Contact us at 603.912.5466 or KenM@GraphicX.com.