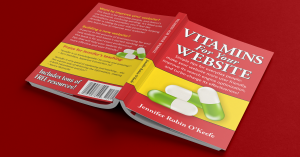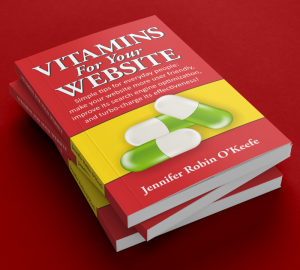 Jennifer Robin O'Keefe is an author, web designer, social media guru, TV show host and producer, and paid speaker. I was lucky enough to take a couple of her insightful seminars on social media. So, when she asked me to assist in the design of the book cover for her new book "Vitamins For Your Website," I was excited for the opportunity. Jennifer presented me with a basic concept for what she was looking for and let me do the rest.
What you see here are final mockups that I produced for Jennifer's approval. It incorporates all of the concepts that she asked for and presents them in eye-catching style.
---
"I gave Ken a vague idea of what I wanted for my book cover and he was able to incorporate the colors and style I pictured in a special, unique way.  He took the time to consider every element and use of the final design and ensured that the execution would be flawless."
Jennifer Robin O'Keefe, Author
---
You can find out more about Jennifer's new book at vitaminsforyourwebsite.com or FaceBook.