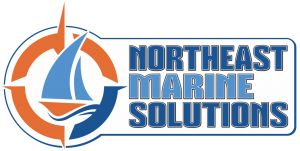 This is a recently completed logo design project for Northeast Marine Solutions. The criteria for this project was to create a logo that highlights the professionalism of our client while being visually appealing and incorporating appropriate colors and logo elements that reflect the business's aquatic nature. It was also important to have a strong logo element that could be used alone when necessary. The compass with water and boat provides a stylistic element that is pleasing, recognizable and memorable. You can learn more about Northeast Marine Solutions below.
---
Whether it's adding safety, comfort and style to a modern yacht or adding style and personality to your stand-up paddle board we're here to assist you every step of the way.
Northeast Marine Solutions LLC is your one stop custom marine decking solution. Providing safety and comfort to the marine industry, all while adding style and individuality.
You can visit them at www.ne-marinesolutions.com or FaceBook.