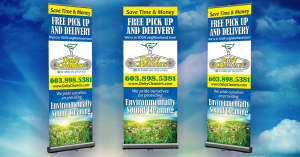 Daisy Cleaners needed a retractable banner display unit for a recent trade show. They wanted to highlight their awesome free pickup and deliver service as well as their commitment to providing environmentally sound cleaning practices. When designing the banner, we drew from the logo's color scheme and supplemented it with a photo graphic that perfectly fit Daisy Cleaners' identity and environmental awareness.
– YES, WE DESIGN AND SELL SIGNS AND BANNERS OF ALL KINDS! –
One of the concerns when purchasing a retractable banner is that the banner is susceptible to scratching with repeated use. We decided to use a dye sublimated cloth banner that is substantially more scratch resistant. That a fabric banner really works for a fabric cleaning company was a great side benefit. You can learn more about Daisy Cleaners below.
---
Daisy Cleaners is proud to be your local dry cleaners for over 50 years. The philosophy of Daisy Cleaners is not how many items we put out in a day but rather the finished quality of the items we produce. Our staff has a combined experience of over 100 years in the dry cleaning industry. Jim Desjardins, the owner, is a 2nd generation dry cleaner. Most of the staff has been with Daisy for ten to twenty years or more! This means that you not only get a high level of professional service but also an amazing amount of expertise. Attention to detail and dedication to excellence has served Daisy Cleaners well. Learn more about our history here!
Daisy currently works with customers throughout Southern New Hampshire and Rockingham County with business coming from as far away as Maine and Connecticut. Daisy has been voted Salem, New Hampshire's "Best of the Best" 16 years running! Daisy is always striving to provide outstanding service. There is no job too big or too small for this talented staff and with the addition of their convenient free pick-up & delivery service, Daisy can come directly to you to get the job done.