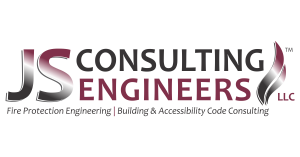 This is a recently completed logo design project for JS Consulting Engineers, LLC. The criteria for this project was to create a logo that highlights the professionalism of our client while being visually appealing and incorporating appropriate colors and logo elements. While JS Consulting Engineers provides fire protection engineering, they also provide more general building and accessibility code consulting services. Therefore we decided to incorporate a less prominent flame element that graphically speaks to the fire protection engineering aspect of their business while not overpowering the code consulting portion. After reviewing the overall design of the logo with our client we determined that using these strong colors reflected the strong professionalism of the business while avoiding the common and sometimes overused red flame. You can learn more about JS Consulting Engineers, LLC below.
---
JS Consulting Engineers, LLC is an engineering and consulting firm specializing in fire protection engineering, building and life safety code consulting and accessibility code consulting. Their Clients include building owners, architects, contractors, building managers, and AHJ's throughout northern New England including Massachusetts, New Hampshire, Maine, and Vermont.
JS Consulting Engineers, LLC offers the following Fire Protection Engineering and Code Consulting Services:
Professional Fire Protection Engineering (P.E.) Services for Fire Alarm System, Fire Sprinkler/Standpipe System, and Alternative Fire Protection System Contractors
Fire Protection, Life Safety, Building Code and Accessibility Code Consulting Services including:
Local and State Codes
ICC and NFPA Codes and Standards
Local and State Accessibility Regulations and Standards
ADA Standards
FHA Design Guidelines
Peer Review Services
Special Inspection Services for Smoke Control Systems pursuant to IBC §1704.16.
Special Inspection Services for Sprayed Fire-Resistant Materials pursuant to IBC §1704.12
You can visit them at www.jsfirecode.com or connect with them at LinkedIn.