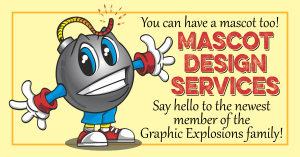 Graphic Explosions is proud to introduce our new mascot. And we're pleased and excited to offer our new Mascot Design Services! It's funny. This design project started out as a way to celebrate our 25th anniversary of being in business. We wanted to do something new and special. A mascot for the business was just the ticket. But as we got further into the design process and really looked at how a mascot can be a valuable tool for marketing a business, organization or team, we decided to offer this service to everyone.
Here's three reasons that having a mascot would be beneficial:
1. BUILD BRAND RECOGNITION
Generate amity for the brand.
Act as an ambassador for the brand.
Act as a memorable marketing tool for promotional campaigns.
People are constantly flooded with marketing messages so you need to go the extra mile to stand out. A Mascot can get attention.
2. INCREASED EXPOSURE
Highly effective in creating awareness, building loyalty and importantly, selling the product.
A good mascot is memorable. If an appealing character can work its way into the public consciousness it will become an instantly recognizable symbol for a product. When you look at the Geico gecko you immediately think of Geico. You see the Pillsbury dough boy and think of gooey chocolate chip cookies. The mascot says it all.
3. APPEAL TO THE HUMAN PSYCHE
A mascot's personality can distinguish your brand.
Mascots are fun and entertaining. A likable mascot can instantly create a positive connection with your potential customers. Not only will they attract new potential customers that will want to learn more about your company. They can also create enthusiasm for sporting or fundraising events, and getting you attention that simply a logo won't!
So, sent me an email, give me a call or drop by the office. I'd love to talk to you about our new service or any way that I can help you or your business succeed.