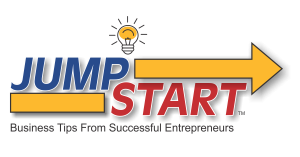 This is a recently completed logo design job for the JumpStart Show. Since the show reflects the energy, passion and ingenuity of entrepreneurs the logo needed to encompass those qualities as well as the idea of moving a business forward. The primary colors of the logo show the energy with the lit light bulb reflecting the inspirational ideas of the guests. The forward leaning letters and arrow move the logo forward.
---
JumpStart host, Jennifer O'Keefe, interviews extraordinary business owners from New Hampshire and digs into their tips, strategies, and cautions. Their goal is to inspire and educate up-and-coming entrepreneurs! Show guests run successful businesses that are long-standing, successful, and give back to their communities. The show will begin airing November 2016 on Derry, NH community TV and all episodes will be available on their website: www.jumpstartshow.com.
Please use the links below to share this post.